Vertical Style Natural Gas Steam Boiler
The construction of vertical gas oil boiler is much simpler and easier than any Other boiler. Vertical gas oil boiler occupy very little space, so it is used where less ground is available for operation.Vertical gas oil boiler leakage protection function: After the control system detects the leakage of the heating element, it will automatically cut off the power. Water shortage protection: When the vertical gas oil boiler is short of water, the heating tube control circuit is cut off in time to prevent dry burning damage of the heating tube, and the controller issues a water shortage alarm indication. Over-current protection of vertical gas oil boiler: When the boiler is overloaded (voltage is too high), the leakage circuit breaker is automatically disconnected.

1.Model:Lhs
2.Capacity:300kg/h,500kg/h,1000kg/h
3.Design pressure:0.4Mpa(4bar),0.7Mpa(7bar),1.0Mpa(10bar)
4.Stem temperature:below 184 degree
5.Design fuel:natural gas, lpg,lng,cng,biogas, diesel oil,heavy oil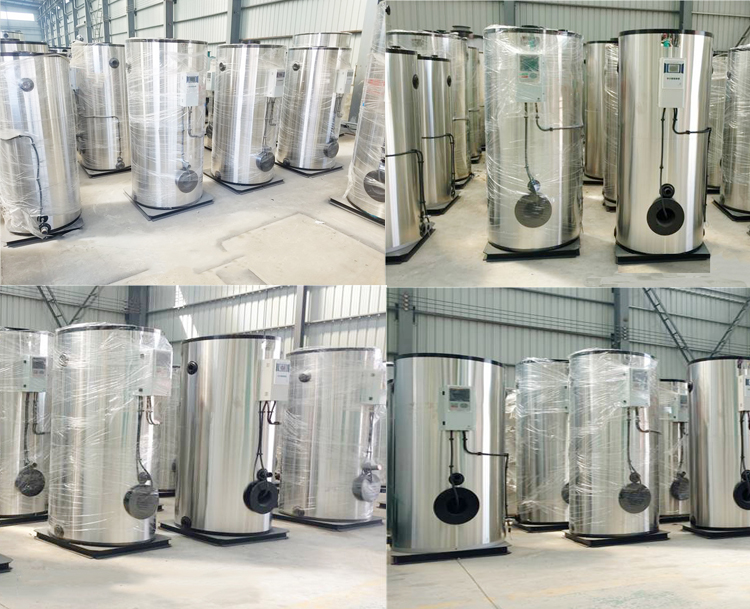 Vertical Style Natural Gas Steam Boiler Technical Data
Model

LHS0.3-0.4-Y(Q)

LHS0.5-0.4(0.7)-Y(Q)

LHS1-0.4(0.7)-Y (Q)

Rated evaporation

( t/h)

0.3

0.5

1.0

Rated steam pressure( Mpa)

0.4

0.4/0.7

0.4/0.7

Feed water temp (°C )

20

20

20

Rated

steam temp(°C )

151

151/170

151/170

Applicable fuel

Light diesel ,Nature gas, Coal gas, Liquefied petrochemical gas

Oil consumption(g/h)

10240kcal/kg

19.2

32

65

Nature gas(Nm3)

8000kcal/m3

25.5

42.5

84

Coal gas(Nm3)

3800kcal/m3

53

70.5

132

LPG(Nm3)

24000kcal/m3

9.3

15.5

28

Burner Power consumption(Kw)

0.37

0.55

1.4

Weight of the boiler body(Kg)

991

1657

2561

water capacry(m3)

0.54

0.81

1.3

Overall dimension (mm)

Diameter x Height

988x1956

1158x2190

1358x2468

Vertical Style Natural Gas Steam Boiler Spare Parts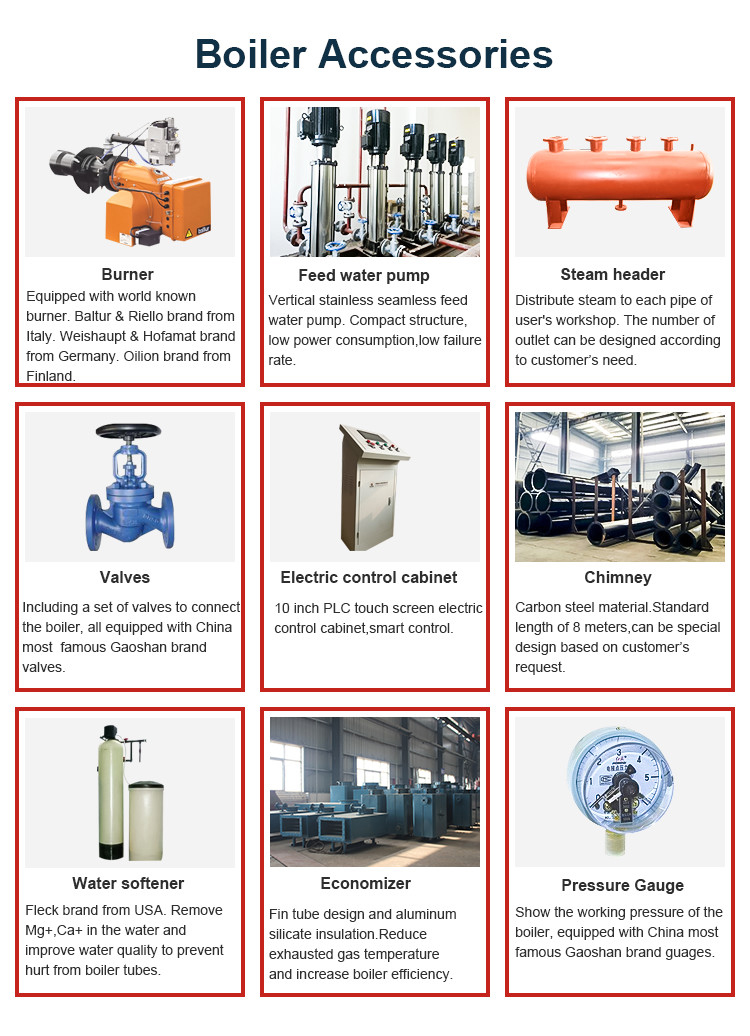 Vertical Style Natural Gas Steam Boiler Packaging & Shipping
1. Packing way: nude packaging for boiler mian part and wood box packaging for boiler accessories.
2.Container packing: 20 container
3.All goods will be reforced after packing into containers.
4. We have stable shipping company to cooperate. They will confirm the safty of the goods.
5. Shipping way is different according to customer's country. Mostly by sea. Some country by train.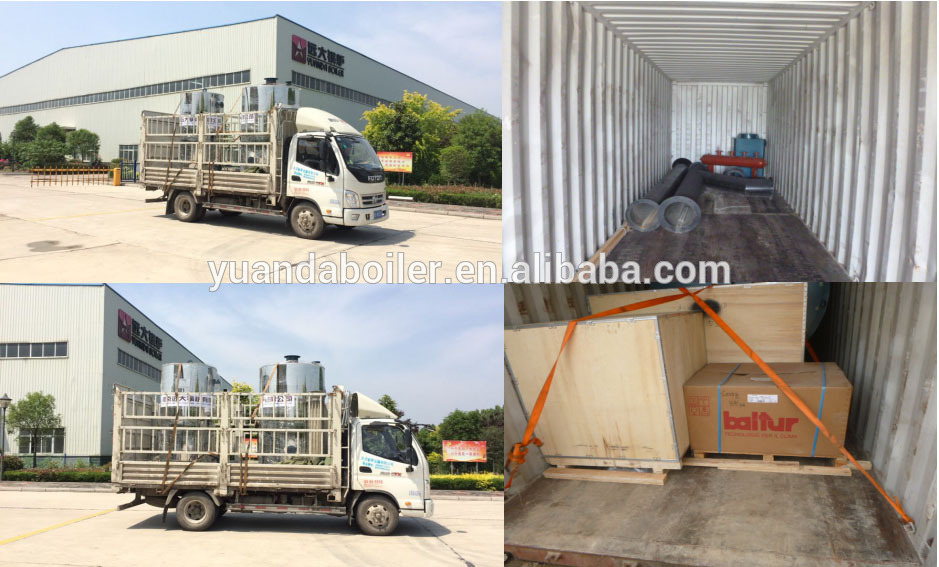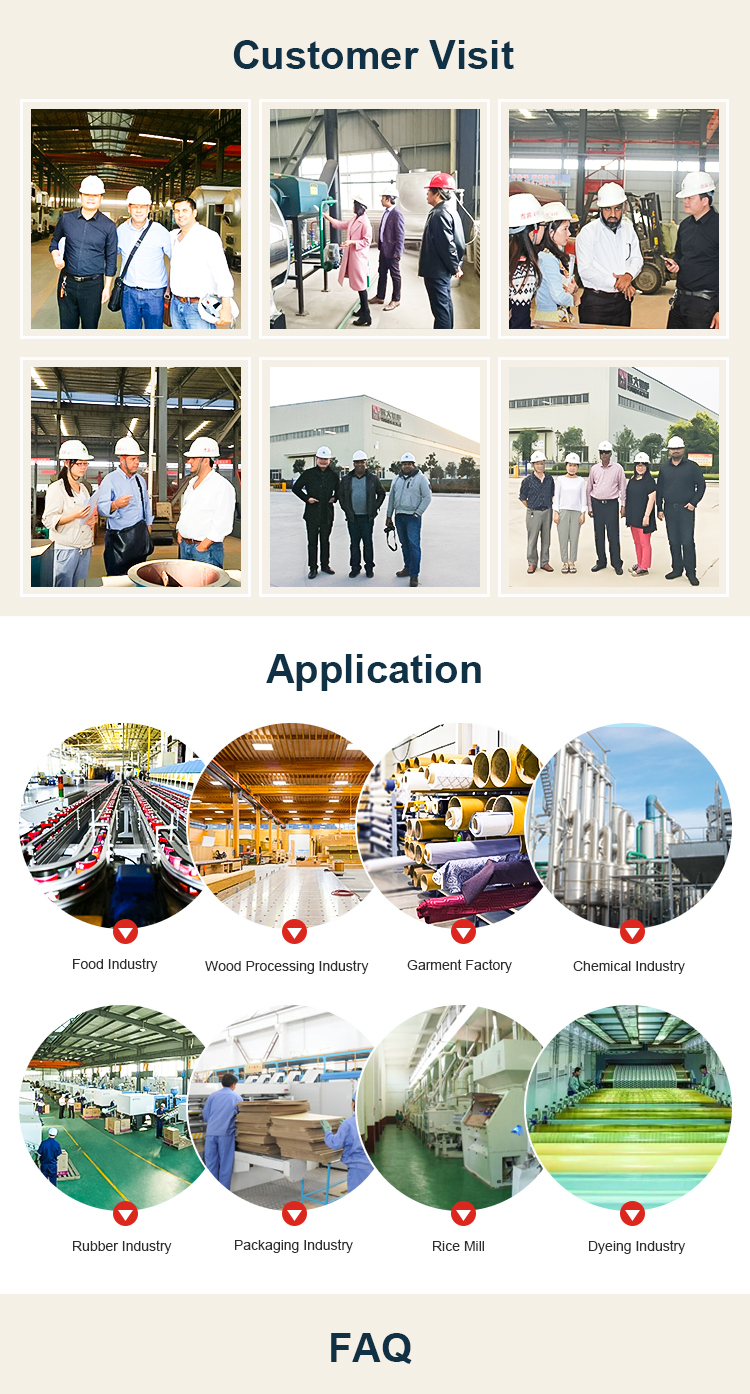 Q1: How can you get the best price quickly?
(1) We need to know the boiler capacity, the fuel you plan to use and the steam pressure you need, and then we can confirm the boiler model.

(2)

Customer needs to provide us your name, email address and company name, and then we will send you price list immediately.And if you use whatsapp, skype or wechat, you can provide us your ID, it will be more convenient
Q2: Why should you believe our boiler quality?
(1).Strength calculation report with applied materials information;
(2).100%NDT(non-destructive inspection) report of steel plate, tube and welding rod;
(3).100% X-ray inspection(welding seam): ensure the quality of entire boiler;
(4).Hydrostatic test: ensure the standard working pressure and safety;
(5).Third-party inspection report:By Henan Boiler Inspection Institute;
(6).Passed ISO:9001 and SGS certificate.
Q3: What about the installation and

Commissioning

?
After you receive the boiler, we will guide you to make some preparation for installation;If necessary, our expert will fly to your local place in 72 hours. The experts will responsible for guiding installation and commissioning.
But the buyer will be in charge of :
(1) The round air-tickets costs from Zhengzhou city to your project site.
(2) Board and lodging of seller's workers for entire period at the end user's site.
(3) Service fee for guiding engineer:100$/day/person.
Q4:What is the using life of your boiler?
A:Normally the boiler is designed for 20 years life span, but with right operation and good maintenance,the boiler can be used for 20-25 years.