Soy bean Oilseed Crusher Machinery
Applications: oil processing plant flaking material
The material: soybean, peanut, corn, rapeseed, cottonseed, sunflower and Other
Main models and technical parameters
soyabean cracker machine grain crusher factory 100-300T Crushing Machine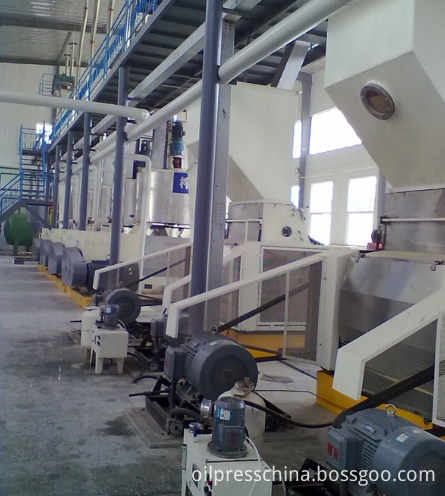 Protection system: a fully enclosed machine safety, protective cover plate and the upper and lower front door painted carbon steel plate, it looks reasonable structure, beautiful, to improve security measures.
Lubrication system: The centralized lubrication technology, will operate the lubricated bearing part concentrated at a point lubrication under normal operating conditions of the lubricated components for normal maintenance and repair.
Broken Roll: centrifugal composite casting technology, double metal alloys, nickel-chromium-molybdenum alloy outer layer, inner layer made of high quality gray cast iron alloy layer thickness 15-20mm, hardness HS75 ± 3, static and dynamic balance through rigorous testing, smooth operation, no noise. Patented assembly technology.
Crusher Base: high quality steel welding, to ensure a reasonable structure, no distortion, stable performance.
Pulley Machine: high strength material HT250 pulleys, each pulley through the balancing test, the accuracy level of up to G2.6, all movable pulley use up sleeve design, easy disassembly.
Technical specifications:
1. Main drive motor power: 22 kw two, feeding motor 0.55kw one.
2. Broken size: size adjustable
3. Weight: about 6.5t
Applications: oats, barley and other food tablet use
| | | | | |
| --- | --- | --- | --- | --- |
| Model | Capacity(T) | Weight(T) | Power(KW) | Remark |
| 400x1500 | 500TPD soyabean | 6.5 | 22*2 | Need 1 feeder engine of 5.5KW |
| 400x1250 | 350 TPD soyabean | 5.5 | 18.5*2 | Need 1 feeder engine of 5.5KW |
| 400x1000 | 300 TPD soyabean | 5.5 | 15*2 | Need 1 feeder engine of 5.5KW |
| 250x1250 | 100 TPD soyabean | 3.2 | 11*2 | Need 1 feeder engine of 5.5KW |
| 250x1000 | 80 TPD soyabean | 3 | 11*2 | Need 1 feeder engine of 5.5KW |
Soy bean crusher producer

soyabean cracker machine grain crusher factory 100-300T Crushing Machine
Soy bean crusher producer

soyabean cracker machine grain crusher factory 100-300T Crushing Machine
Soy bean crusher producer

soyabean cracker machine grain crusher factory 100-300T Crushing Machine
Soy bean crusher producer

soyabean cracker machine grain crusher factory 100-300T Crushing Machine
Soy bean crusher producer

soyabean cracker machine grain crusher factory 100-300T Crushing Machine
Soy bean crusher producer

soyabean cracker machine grain crusher factory 100-300T Crushing Machine
Soy bean crusher producer

soyabean cracker machine grain crusher factory 100-300T Crushing Machine
Soy bean crusher producer

soyabean cracker machine grain crusher factory 100-300T Crushing Machine